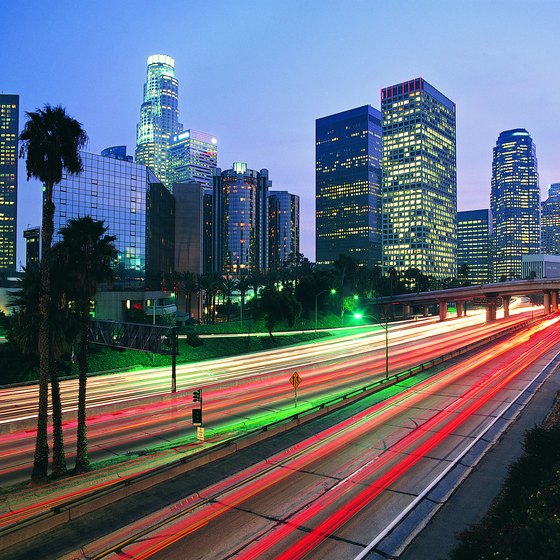 Even though the legal drinking age in Los Angeles is 21, 18- and 19-year-olds can still get into some of the hottest dance clubs in town. Many clubs offer special 18 and over nights so younger patrons can boogie to the beat along with older club-goers. Some 18 and over venues serve no alcohol, while others distribute wristbands to those 21 and over and allow them to drink at the bar.
Central Los Angeles
The Airliner (theairlinerla.com), in the Lincoln Heights neighborhood, is situated on North Broadway, the area's major shopping and restaurant district. The club's first level has a lounge, small stage and bar. Club-goers can order tacos and other Mexican food from a counter in front of the kitchen. Upstairs, techno and hip-hop fans dance to the latest beats courtesy of resident DJs at the popular "Low End Theory Club" on Wednesdays. "Tektonik LA" features electronica and techno the third Thursday of each month. The Airliner even has outdoor patios on the first and second levels, with a large outdoor stage on ground level behind the building. Jewel's Catch One (catchonenightclub.com) in Mid-City, is home to Das Bunker (dasbunker.org), an ongoing Friday night dance club with DJs playing industrial dance music. Guest DJs from all over the world have appeared at Das Bunker as well as Nitzer Ebb and other industrial bands.
Hollywood
Club Wannabe (myspace.com/beatitvip) takes place at Boardner's Restaurant (boardners.com) on Sunday nights. This '90s dance club features DJs spinning hits from the Spice Girls and other stars from that decade. Clubgoers arriving early can get in free with a printable pass off the club's website. Level 3 (level3hollywood.com), an upscale club in the Hollywood and Highland Shopping Complex, hosts DV8, a dance party featuring DJs from KIIS-FM, a local Top 40 radio station, on Friday and Saturday nights. Club-goers 18 and 19 pay slightly more to enter, and there's a strict dress code forbidding sneakers, caps, hooded sweatshirts and athletic wear. The club has a 3,000-square-foot dance floor and a luxurious, curtained lounge area.
West Hollywood
West Hollywood, known for its gay and lesbian club scene, offers several nightlife choices for young dance aficionados. Rage (no website, 8911 Santa Monica Boulevard, West Hollywood, CA. 90069; 310-652-2814), a fixture in West Hollywood's gay community since the early 1990s, offers two dance floors for a mixture of gay and straight partygoers. The once-weekly Gameboi Club, especially for patrons 18 and up, has a small cover charge. Most events at the Key Club (keyclub.com), on the famous Sunset Strip, admit patrons 18 and older. Metal, indie and hip-hop bands take the stage most nights, but promoters occasionally feature DJ and dance events. Partygoers under 21 may still need to adhere to a two-drink minimum, depending on the event. The world-famous Whisky A Go Go (whiskyagogo.com), also on the Sunset Strip, has an all-ages door policy. From its debut in 1964, the club has featured groundbreaking bands, from the Doors and Van Halen to up-and-coming punk and metal bands. Although basically a rock venue, dance events may be featured from time to time.
Downtown/Silverlake
The Smell (thesmell.org) an alcohol-free club in downtown L.A., offers a variety of all-ages events, including indie bands, DJs spinning industrial and goth dance tunes by popular '80s bands and occasional art shows. The volunteer-run club has a vegan snack bar and low admission fee. Weird Science, a Wednesday night dance club at the Mexican Village Restaurant (themexicanvillage.com) in Silverlake, features DJs playing electro, house and 1980s music. Patrons can watch 1980s music videos and enjoy special discounts on appetizers between spins on the dance floor.