Planning your music can be one of the most fun parts of planning a wedding. It can also be one of the most daunting for couples who have never given their wedding music a second thought. Planning your wedding music is much more than simply telling the DJ your favorite songs. The best wedding music will set the tone for the moment, reflect you and your future spouse's taste, and eventually get everyone up and dancing. Music can add an air of sophistication or amp up the energy, so choosing the right music for the right moments is key to a flawless event.
Below you will find resources to help you with everything from hiring the right DJ to avoiding the most common wedding music mistakes. You'll also find resources dedicated to selecting the perfect songs for your planned special moments like walking down the aisle and the first dance. Look no further: here is everything you need to know to perfectly plan the music for each moment of your special day.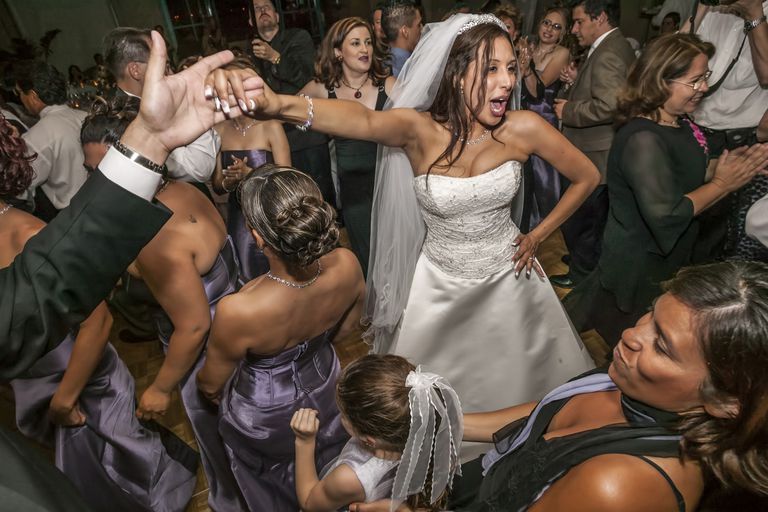 1
How to Hire a DJ
So you've decided to hire a DJ for your wedding reception. DJs are a fun, versatile choice for wedding music, but unfortunately, not all wedding disc jockeys are created equal.
Learn how to find the right DJ and how to evaluate that DJ before making the final hiring decision. Wedding planners and clients alike should check out these tips for interviewing and working with wedding disc jockeys.
2
Wedding Music Mistakes to Avoid
Once you've chosen a DJ, you'll want to make the most of his services. Steer clear of common wedding reception pitfalls and music mistakes with the help of these five essential tips. By avoiding common logistical errors, you'll be setting up your DJ — and your wedding — for success.
3
Wedding Entrance Songs for a Wedding Reception
When you're introduced to your guests for the first time as husband and wife, your introduction music should be just right. Perhaps you want to enter with elegance. Or maybe you'd rather enter with a bang. Whatever your style, make your wedding entrance truly a "wow" moment with these fun, upbeat, and modern wedding entrance song ideas.
4
Ideas for Wedding Songs with Style
Looking for wedding songs to express your unique personalities? In this day in age, there's no reason to rely on the same old tired wedding music. This list offers wedding dance music suggestions with a stylish twist. Whether your tastes run toward the classic, the modern, or something in between, you're sure to find songs that perfectly suit your one-of-a-kind love story.
5
How to Choose a Great First Dance Song
Stuck on choosing the perfect song for your wedding first dance? Any couple can find that special wedding dance song with a little effort. You may not have one particular song in mind, but with the help of the tips in this article, you're sure to find a first dance song that suits your style as a couple.
6
Father and Daughter Dance Songs
The father and daughter dance at a wedding is typically an emotional tradition, which calls for an emotional song. Sweet and sentimental: that's the theme for this list of song ideas for the father and daughter wedding dance. If you want a song that perfectly captures the love between a father and daughter, this is the list for you.
7
Songs for Father-Daughter Dances Alternatives
Families come in all shapes and sizes. Perhaps your closest relationships call for a special dance with another man in your life. Whether you choose to dedicate a dance to your grandfather, brother, son, or perhaps a new step-son, this list is for you. When the typical tearjerker song isn't the right choice for you, this article can help you find a song that's just right.
8
Mother and Son Wedding Dance Songs
The groom's dance with his mom can be one of the most special parts of the wedding. A great mother-son wedding dance song is nostalgic, sweet, and full of love. Here are suggestions for tender songs for the mother and son dance. Get out the tissues!
9
Wedding Dance Songs for All Ages
Practically all couples want their guests to celebrate by dancing the night away at their wedding, so here are the songs to provide the soundtrack. What songs really get everyone moving? From oldies but goodies to disco fever and 80's hits to current hits, this list has them all! For a dance floor that's packed, check out this article.
10
Sites to Help You Choose Wedding Music
You've gone through your Spotify and iPod and asked everyone you know for ideas, but you still need ideas for wedding dance songs to add to your playlist. No need to despair! There are a wealth of sites online to help you find the best wedding songs.
Check out this list for eve more wedding music song selection resources. These sites have all the suggestions you could need.