I don't think I've purchased any RUN DMC merch in quite a while, but if I can get a RUN STL shirt, I might be in the buying mood.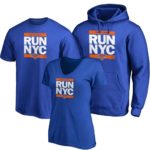 Fanatics, the global leader for officially licensed sports merchandise, today announced the launch of "RUN-CTY," a new exclusive product line produced in collaboration with legendary hip hop group RUN-DMC. Fans around the world will now be able to combine their love for music, fashion and sports with licensed apparel featuring the multi-platinum masters' legendary logo in the largest collaboration of the famed group's history.
The collection of merchandise, ranging from tee-shirts to snapback hats, is available across men's, women's and youth sizes and will showcase the enduring popularity of the globally recognized RUN-DMC logo and typeface. Cities from multiple teams across a variety of leagues will be stacked under the widely recognized all-caps RUN, in between the iconic thick red lines, i.e. RUN-CHI, RUN-CLE, RUN-OKC, and many more. All products were designed and created by Fanatics Branded, the company's in-house manufacturing division.
The new "RUN-CTY" apparel line by Fanatics and RUN-DMC
"It's cool to have the RUN-DMC logo be part of this special collection," said Darryl "DMC" McDaniels. "I like having the spirit of our music history tied into the passion of sports fans around the world."
Beginning today, fans can purchase gear online at Fanatics' fashion-focused online store, FansEdge.com, as well as NBAStore.com and the flagship NBA Store in New York City. The collection will become widely available on Fanatics.com and its extended network of partner sites on October 6.
"Fanatics is constantly striving to find fresh and unique ways for fans to show love and support for their favorite teams. Through this unique collaboration, we've been able to create products that appeal to a broad range of fans – casual ones who see this as a more fashionable option, to the loyal supporters who want to add the latest team product to their wardrobe," said Raphael Peck, president of Fanatics Branded. "We've worked very closely with the RUN-DMC team to make sure we captured the essence of their iconic brand throughout all of the gear in this line."