R&B and hip-hop albums frequently number 20 tracks or more, while dance artists are making records that last five hours. Are musicians spreading themselves too thinly?
Lock the doors, shutter the windows and keep the lights on, because something truly terrifying has descended upon us this Halloween: Heartbreak On a Full Moon, a Chris Brown album that has been allowed to witter on for 45 songs.
Brown's amorality, trust issues and joyless acquisitiveness have occasionally made for unwittingly spellbinding songs (Deuces, Loyal), and he made for a convincing EDM-pop frontman, but our era of Latin pop and bleak rap has him flailing. Questions, the big lead-off single from his bloated opus, features karaoke versions of dancehall hits in lieu of a chorus; its creative redundancy has stalled it at a high of No 84 in the US charts. The calculated humility of a recent documentary meanwhile, in which he finally discussed his abuse of Rihanna, merely nauseated as he admitted: "I'm [going to] be me, and be evil … She tried to kick me … and I really hit her, with a closed fist, I punched her."
Lacking good songs or an appealing personality, Brown is instead gaming the album charts to stay culturally relevant. The sheer number of songs on Heartbreak On a Full Moon means that the weight of the cumulative streams could well add up to a strong album chart placing, even if none of the individual songs are being particularly highly streamed. And with no CD market to worry about, Brown can let his LP run far beyond an 80-minute limit.
This is a wider trend in hip-hop and R&B. Amongst this year's releases, Ty Dolla $ign's Beach House 3 has 20 tracks, Lil Yachty's Teenage Emotions has 21, Drake's More Life has 22, Lil B's Black Ken has 27, and Future released 36 songs across two albums within the space of a week. Even accounting for rap's fondness for skits, intros and other extraneous throat-clearing, this is uncharted territory.
Dance musicians too are breaking free of the old demands of the CD era: Superpitcher's new five-hour record The Golden Ravedays stretches across 12 vinyl records, while goth-techno producer Prurient's upcoming album Rainbow Mirror is three hours long, necessitating seven LPs. There are two different scales at play here: the dance producers are leveraging fans' desire for luxury editions, making a small number of large transactions, while Brown et al are doing quite the opposite, flogging a huge number of songs to add up to one decent chart placing.
It's also harder than ever to know exactly what will resonate with streaming's diverse youth demographic, so Brown's "shit at a wall" approach gives more opportunity for one track to catch on – but it's a dangerous gamble, given that it's harder to find the gems amid such an intimidating mass.
But while you could reasonably argue that plus-sized records are just cynical dalliances with the marketplace, you could instead see them as creatively bold, breaking free of the technological limitations of an earlier era and looking at a radically larger canvas. Might we see some genuinely exciting long-form releases, who live up to their demands on listener attention? The traditional album format is already being eroded in the other direction, with artists such as Major Lazer and Avelino releasing a constant trickle of singles and short EPs; if you're as profound and poetic as Frank Ocean, you need only release one track every few months to stay in the zeitgeist.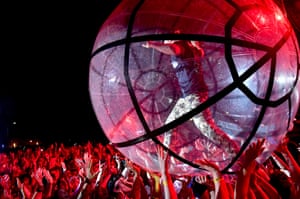 As the CD and download markets finally wither, the album format, at least for pop music, is being largely propped up by the album chart itself; the marketability of a high-charting release means that labels and artists still want to release them. But the sheer adaptability of playlists means that (particularly younger) listeners increasingly value them more highly, and so the yearly 45-minute LP will become just one in a multiplicity of lengths and formats. Sitting through 158 minutes of Chris Brown nasally recounting bottle service is unlikely to be the most compelling among them.